byui.edu
The website wasn't really a priority for quite some time. Only modest changes were made from the time it was created in 2001 until 2011. At that point, Information Technology and University Relations began to collaborate, argue, and generally shake things up. Then, suddenly, we were greenlighted to begin updating the site!
After what seemed like hundreds of iterations and approval sessions, the interface was approved (see below). What proved to be most difficult were the lack of analytics. Instead, we had to sort through the needs and wants of many important campus groups (thus the fat footer at the bottom). It's obvious that realistic buttons, carousels, and flash animation were a pretty hot item at the time. We didn't know that all that stuff was useless. However, on the plus side, hierarchy was improving and we had a nice search bar at the top.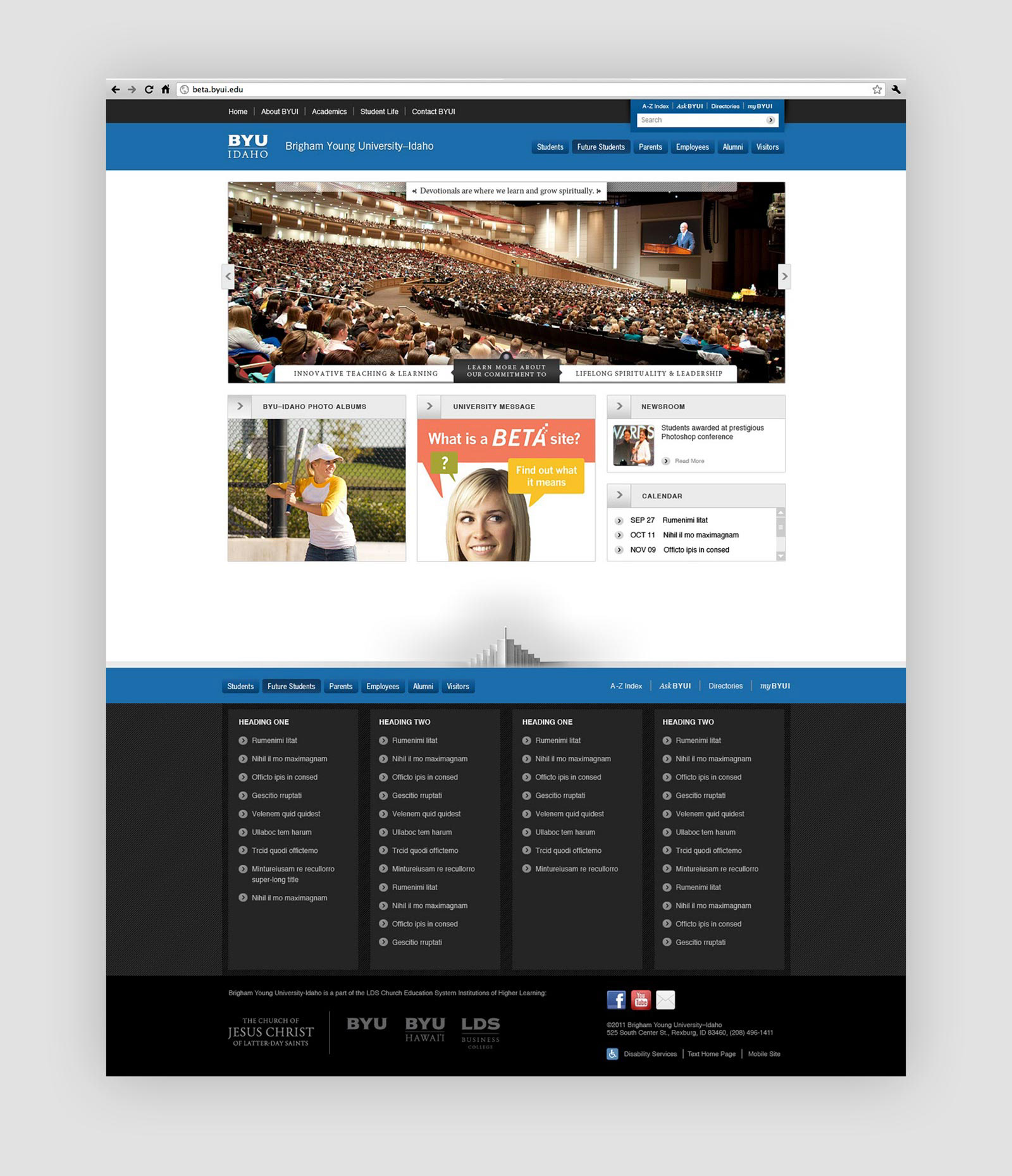 The site served for several years. However, mobile browsers were changing the game fast. We now had dedicated web personnel, including web analysts looking at the data. We needed a way to iterate quickly and respond to these analytics.
We opted to use a Bootstrap framework as it was already set up for responsive browser design. Our CMS, Ingeniux, had improved it capabilities as well. Using this technology, Jeff Dunster created a PageBuilder application for our site. It allows webmasters to build pages with pre-designed components. I consulted from a branding standpoint and designed  components for several years during this process. Once it was nearly complete, I used the PageBuilder components to make the current BYU-Idaho homepage as it stands today. It's responsive and easy to change at a moments notice. Analytics has been coded so we can better measure future user activity. The large advertising image is still a topic of debate. At least it doesn't rotate :)